Our bathroom painting experts are here to help you elevate the look of your bathroom.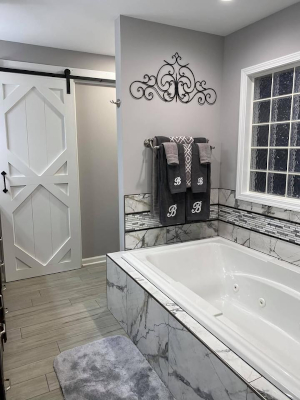 The bathroom is one of the most important rooms in your home, as it serves several functions which are vital to maintaining your comfort and health. Your bathroom is also one of the rooms guests will see, which gives you an even better reason to make sure it looks its best. If you are unhappy with your current bathroom design, you can turn to our team at Smith & Company Custom Homes & Remodeling for help. Whether you are interested in a full remodel or in a simple paint job, our experts can help you achieve the high-quality results you are looking for. Even if you don't make any other changes, using our bathroom painting services is a great way to transform the look of this space.
When you call our team for bathroom painting services, we'll first help you figure out the exact look you want to achieve, then help you select the right paints to create that color scheme. Once you have selected your paints, all you'll need to do is schedule a time for our team to come apply them for you. We'll take care of all the preparation, covering your fixtures, taping off trim lines, and priming the walls, then apply the main color. Our team will make sure you get smooth, even coverage with crisp, clean lines around the edges. To finish, we'll apply a topcoat to protect your paint from steam and humidity, and we'll clean up our work are to make your bathroom look like new.
Our team is proud to serve the community here in Mocksville, North Carolina, and we want to help you take your bathroom design to the next level. If you are looking for high-quality bathroom painting services, just give us a call.